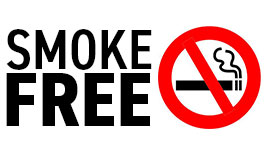 In survey after survey, our guests inform us one of their top reasons for visiting Mt. Washington is the fresh air and pristine alpine environment. Listening to our customer's feedback, Mt. Washington will become smoke-free starting June 1, 2018.
Smoking is currently banned in lift lines, on chairlifts, and within 3 metres of building entrances and intakes. The new policy will extend to all Resort property, including parking lots, ski runs, bike, hiking and Nordic trails and public spaces within the resort area boundary. The policy covers all smoking, including vaporizers and marijuana (prescribed and recreational).
Evolving to a smoke-free resort will ensure that all of our guests experience the 100% natural environment they expect when visiting one of Canada's most beautiful destinations. We believe that this policy is in line with our mission: to provide exceptional alpine experiences in a safe and natural environment.
The Resort will stop all smoking services by discontinuing the sale of smoking products. Mt. Washington wants to ensure that a fair and consistent approach to enforcement. The expectation of compliance from staff and guests with our new smoke-free policy is high. Nevertheless, where non-compliance takes place, an awareness of full policy information will be provided.