Mount Washington Private Accommodations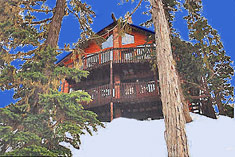 Chalet 57 - The Roost Chalet - Alpine Village
Our Chalet, has brick columns and is clad with cedar. Our Premium unit sleeps up to 6 The Studio sleeps up to 4 and is the only suite in the Village. Prices are just right for a large or small family, or a couple. See availability at http://theroost.ca
Last Updated: 20th July 2015
Contact
Ted or Kathryn Haughton Upper/Lower
Pricing
Weekday: $80/$130
Weekend: $100/$180
Summer: $50/$75
Weekly:
Holiday: $150/$320
Details
Minimum Booking: Two Nights
Check in: 5:00 PM
Check out: 4:00 PM
Pets: No Pets Allowed
Smoking: No Smoking
Information
This property may also be rented as: Upper and Lower
Booking special:
Winter Ski Season: Studio sleeps 2-4 starts at $80/n & is the only studio in the Village. Premium Suite sleeps 2-6 starts at $150/n For details view web at http://theroost.ca
Booking notes:
Please view our availability Calendar at http://theroost.ca for availability, floor plans and location.Please use the booking form on our Web Site or here. This will enable us to get back to you quickly. Our Premium unit sleeps up to 6 and our Studio is ideal for 1 to 4. A minimum 2 night stay is welcome and weekends are Friday and Saturday nights. We our ideally located in the village and are Ski-in, Ski-out. A security deposit is required for all new renters. Thank you.
Rooms
Bedrooms: 3
Bathrooms: 1
Sleeps max: 6
King beds: 0
Queen beds: 2
Double beds: 0
Bunk beds: 1
Single beds: 2
Other beds: 0
Building Information
Reserved parking:
Parking area: Village Parking Lot
Access: Walk In
Wheelchair access: None
Stories: 3
Square footage: =1045/floor?>
Orientation: Family
Ski in/Ski out: Yes
Closest lodge: Alpine Lodge
Closest lift: Unavailable
Bike storage: Yes
Wet storage: Yes
Kitchen & Laundry
Full kitchen: 1
Kitchenette: 1
Dishwasher: Yes
Garborator: No
Ice maker: No
Coffee maker: Yes
Cleaning: Cleaning Supplies Provided
Microwave: Yes
Grill/BBQ: No
Linen: All Linens Provided
Laundry: In Unit Washer/Dryer
Entertainment
TV: No
DVD player: No
VCR: No
Stereo: No
CD player: No
Sleds/Tobogans: Yes
Cablevision: No
Internet: No
Games: Plenty of Board Games
In unit Hot Tub: No
Common Hot Tub: No
In Unit Sauna: Yes
Common Sauna: No
Jacuzzi: No
Balcony: 2
Pool: None
Fireplace: None
Wood Stove: Yes
Wood Supplied: Yes
Heat Type: Electric
Air Conditioning: No
Reservation Request Form
Complete and send this form to check availability for your desired stay. The reply will be from the owners/managers of the rental property. (*) indicates a required field.
Additional Contact Info
Name: Ted or Kathryn Haughton Upper/Lower
Phone: 250-592-7049