Mount Washington Private Accommodations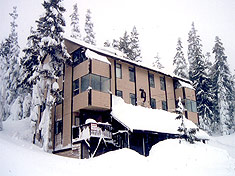 Alpine Family Fun House, 816a Washington Way, #79 Chalet - Alpine Village
Family oriented SLEEPS up to 18 People! 2 interconnected self contained suites, upper 3 bdr sleeps 11 & lower 1 bdr sleeps 7! Entertainment for the whole family provided! Located in the Alpine Village very close to the parking lot, ski in/out.
Last Updated: 4th April 2017
Pricing
Weekday: $350. BOTH
Weekend: $450. BOTH
Summer: $900.month
Weekly: Call
Holiday: $550. BOTH
Details
Minimum Booking: Two Nights
Check in: 4:00
Check out: 11:00
Pets: No Pets Allowed
Smoking: No Smoking
Information
This property may also be rented as: Upper and Lower
Booking special:
Pay for 3, 4th night FREE Sun - Thur ONLY, not offered over XMAS break. Minimum 3 night booking over Christmas and New Years. Must rent BOTH suites over Xmas holidays and weekends.
Booking notes:
$400 security deposit required at time of booking. Please see our up to date availability calendar. There are 3 bdrs in the upper suite, 2 of the rooms have 1 queen bed in each the third room (the same configuration as the lower 1 bdr) has 2 sets of bunks (1 double and 3 single beds), upper bunk beds only suitable for children. There is also 1 queen pull out in each of the 2 living rooms. Please feel free to call or text 250-888-7813 thanks Sherri
Rooms
Bedrooms: 4
Bathrooms: 3
Sleeps max: 18
King beds: 0
Queen beds: 4
Double beds: 2
Bunk beds: 4
Single beds: 9
Other beds: 2
Building Information
Reserved parking: lot
Parking area: Village Parking Lot
Access: Walk In
Wheelchair access: None
Stories: 3
Square footage: =2400?>
Orientation: Family
Ski in/Ski out: Yes
Closest lodge: Alpine Lodge
Closest lift: Unavailable
Bike storage: Yes
Wet storage: Yes
Kitchen & Laundry
Full kitchen: 2
Kitchenette:
Dishwasher: Yes
Garborator: No
Ice maker: No
Coffee maker: Yes
Cleaning: Cleaning Service Extra Charge
Microwave: Yes
Grill/BBQ: Yes
Linen: All Linens Provided
Laundry: In Unit Washer/Dryer
Entertainment
TV: Yes
DVD player: Yes
VCR: Yes
Stereo: Yes
CD player: Yes
Sleds/Tobogans: Yes
Cablevision: No
Internet: Wireless
Games: Books, Board Games, and Movies for all Ages. We also supply a variety of childrens toys for all ages
In unit Hot Tub: No
Common Hot Tub: No
In Unit Sauna: No
Common Sauna: No
Jacuzzi: No
Balcony: 2 enc
Pool: None
Fireplace: None
Wood Stove: Yes
Wood Supplied: Yes
Heat Type: Electric
Air Conditioning: No
Reservation Request Form
Complete and send this form to check availability for your desired stay. The reply will be from the owners/managers of the rental property. (*) indicates a required field.
Additional Contact Info
Name: Sherri Brown
Phone: 250-888-7813