Mount Washington Private Accommodations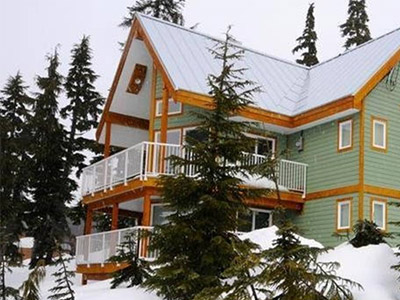 48 Strata Way - Frozen Frog Chalet - Alpine Village
View and book on line at www.washingtonwaychalets.com
Last Updated: 2nd November 2014
Pricing
Weekday: $545
Weekend: $675
Summer: None
Weekly: 10% dis
Holiday: $675/$825
Details
Minimum Booking: Two Nights
Check in: 4pm
Check out: 11am
Pets: No Pets Allowed
Smoking: No
Information
This property may also be rented as: Upper and Lower
Booking special:
Please note this Chalet has two suites upper and lower upper midweek $345 weekend $410 lower midweek $206 weekend $275 Holiday sold as one unit
Booking notes:
This is a stand alone chalet with an upper suite and lower suite. Both suites enter from the same door. There is a sauna right at the entrance which is shared with both the up and down suites. There is a private door inside for the separate suites. The upper suite is the larger of the two. It has one bathroom with a separate sink area and separate shower area. There is one bedroom on this floor that has a double bed. There is a walk through kitchen to the living room which has a wood fireplace. Upstairs you'll find a big area with a small couch and 5 single beds. From this room you walk through to another bedroom that has a double bed and 2 single beds. All together the upstairs will sleep 11 people with plenty of area to move around. Downstairs you'll enter into the full kitchen complete with microwave and dishwasher. The dining area is through the kitchen and the living room is next to the dining area. There is a wood fireplace to enjoy on those cold winter nights. There is one bathroom with a shower and a separate room for washing up. The first bedroom has a double bed and the second bedroom has 2 sets of single bunk beds. All together the downstairs suite will sleep 6 people.
Rooms
Bedrooms: 5
Bathrooms: 2
Sleeps max: 16
King beds: 0
Queen beds: 1
Double beds: 3
Bunk beds: 0
Single beds: Unavailable
Other beds: 0
Builing Information
Reserved parking:
Parking area: Village Parking Lot
Access: Walk In
Wheelchair access: None
Stories: 3
Square footage: =2300?>
Orientation:
Ski in/Ski out: Yes
Closest lodge: Alpine Lodge
Closest lift: Unavailable
Bike storage: No
Wet storage: Yes
Kitchen & Laundry
Full kitchen: 2
Kitchenette: 0
Dishwasher: Yes
Garborator: No
Ice maker: No
Coffee maker: Yes
Cleaning: Cleaning Service Extra Charge
Microwave: Yes
Grill/BBQ: No
Linen: All Linens Provided
Laundry: In Unit Washer/Dryer
Entertainment
TV: Yes
DVD player: Yes
VCR: Yes
Stereo: Yes
CD player: Yes
Sleds/Tobogans: No
Cablevision: No
Internet:
Games: Games
In unit Hot Tub: No
Common Hot Tub: No
In Unit Sauna: Yes
Common Sauna: No
Jacuzzi: No
Balcony: 2
Pool: None
Fireplace: None
Wood Stove: No
Wood Supplied: Yes
Heat Type: Electric
Air Conditioning: No
Reservation Request Form
Complete and send this form to check availability for your desired stay. The reply will be from the owners/managers of the rental property. (*) indicates a required field.
Additional Contact Info
Name: Aileen Dougan
Phone: 1 250 703 0018