Mount Washington Private Accommodations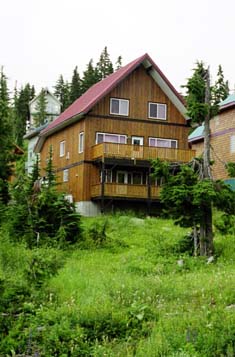 17 Foster's - Family Chalet - 4 BR & 2 BR Chalet - Fosters Place
Drive to/ski out of prime location all season chalet. Our mountain home is an ideal retreat for mature adults and families. We have 6 bedrooms, 2 full kitchens, 2 dens,4 bathrooms, tiled entrance, and large ski lock-up wiith sleds for your convenience. .
Last Updated: 18th January 2015
Contact
Janet or Sheldon Gagne
Pricing
Weekday: $475
Weekend: 600
Summer: 350
Weekly: 15% off
Holiday: 600/800
Details
Minimum Booking: Two Nights
Check in: 4:00 pm
Check out: 12:00
Pets: No Pets Allowed
Smoking: No Smoking
Information
This property may also be rented as: Upper and Lower
Booking special:
Rent 5 weeknights for price of 4!. Special - Jan 23-24 weekend avail as either 2 bdr or 4 bdr. or all chalet with 15 % off. (describe group & #s and ask for price)
Booking notes:
Email us for floor plan, policies and up to date availability (on line calender updated weekly). Please tell us of number of adults, children and any of your specific needs. Reach us at 604-566-1672 week night evenings or 250-924-4276 on weekends. Our family chalet is perfect for a comfortable, spacious private setting on a fee simple lot with driveway parking. We have many repeat guests. Welcome to our mountain retreat for your relaxation & family fun.
Rooms
Bedrooms: 6
Bathrooms: 4
Sleeps max: 16
King beds: 0
Queen beds: 3
Double beds: 3
Bunk beds: 1
Single beds: Unavailable
Other beds: 4
Builing Information
Reserved parking: 5
Parking area: Driveway
Access: Drive In Road Access
Wheelchair access:
Stories: 3
Square footage: =3000 Ft2?>
Orientation: Family
Ski in/Ski out: Yes
Closest lodge: Alpine Lodge
Closest lift: Hawk
Bike storage: Yes
Wet storage: Yes
Kitchen & Laundry
Full kitchen: 2
Kitchenette: 0
Dishwasher: Yes
Garborator: No
Ice maker: No
Coffee maker: Yes
Cleaning: Cleaning Service Extra Charge
Microwave: Yes
Grill/BBQ: Yes
Linen: All Linens Provided
Laundry: Common Washer/Dryer
Entertainment
TV: Yes
DVD player: Yes
VCR: No
Stereo: Yes
CD player: Yes
Sleds/Tobogans: Yes
Cablevision: No
Internet: No
Games: 2 TVs screens in dens with DVD player (no cable) and assortment of DVDs, board games for kids and adults
Exercise Equipment: Ski lock-up has sleds, tobogans, kids shovels. Great location to access alpine lifts, X-country and Strathcona Park Trails
In unit Hot Tub: No
Common Hot Tub: No
In Unit Sauna: Yes
Common Sauna: Yes
Jacuzzi: No
Balcony: 2
Pool: None
Fireplace: Gas
Wood Stove: No
Wood Supplied: No
Heat Type: Electric
Air Conditioning: No
Reservation Request Form
Complete and send this form to check availability for your desired stay. The reply will be from the owners/managers of the rental property. (*) indicates a required field.
Additional Contact Info
Name: Janet or Sheldon Gagne
Phone: 604-566-1672